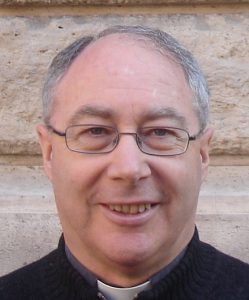 A.T.C.L.  (London)
BA  (Victoria)
Psych.D  (Gregorian)
Registered Psychologist (NZ)
Role at Te Kupenga: Lecturer in Pastoral Psychology
Father Timothy Costello is a priest of the Society of Mary. After some years of parish ministry, he studied at the Pontifical Gregorian University in Rome for the Licentiate (1985) and Doctorate (1998) in psychology. He was a full-time lecturer at the Gregorian University from 2002-2013 attached to the Institute of Psychology, the Centre for the Preparation of Seminary Educators and the Faculty of Canon Law (Jurisprudence). He was a peritus at the Eighth Synod of Bishops (1990) on the formation of priests.  In recent years he contributed to the professional training of staff at the National Seminary of the Catholic Church in China (Beijing). He is currently lecturer in pastoral theology and ministry at Te Kupenga – Catholic Theological College.
PUBLICATIONS:
Book
Forming a Priestly Identity, Gregorian University Press: Rome, 2002.
Book Editor
Toward Healing and Renewal. The 2012 Gregorian Symposium on Sexual Abuse of Minors, Paulist Press: NY, 2012.
Formation and Transformation , T.Costello and V Sasi (ed). Asian Trading Corporation: Bangalore, 2010.
Chapters in Books
"Goal and Purpose of Priestly Formation" in Formation and Transformation, T.Costello and V Sasi (ed). Asian Trading Corporation: Bangalore, 2010 , 2-19.
"The personality of Jean-Claude Colin, Superior General" in Catholic Beginnings in Oceania . Marist Missionary Perspectives, A. Greiler (ed). ATF Press: Hindmarsh , South Australia , 2009, 183-200.
Articles:
"When does psychopathology constitute an obstacle to the priesthood?"Seminarium, 49 (2009) 303-320.
"Integrating Formative Roles" in Formation and the Person. Essays in Theory and Practice, A.Manenti, S Guaranelli, and H.Zollner (ed), Peeters: Leuven , 2007, 241-256.
"The Use of Psychology as an Aid to Priestly Formation", Seminarium, 32 (1992) 29-636.
"Psychology and the Discernment of a Vocation", Origins 20 (1990) 346-348.
"Psychological Evaluation of Vocations", Human Development, 6 (1985) 37-42.