If you missed this event, you can watch the video recording here.
As we approach Social Justice week in Aotearoa from 3rd – 9th September, let's explore how the Church's social teaching help us to challenge the status quo in society both here and overseas.
Join us for this free online event.
Thursday, 31 August 2023
6:00-7:30pm
Via Zoom
Speaker: Lyn Smith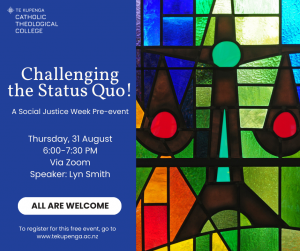 About the Speaker: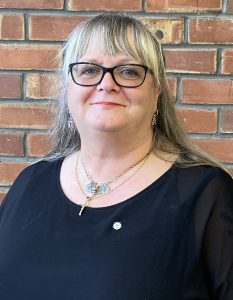 Lyn was born in Yorkshire (England) and has taught Religious Education at Secondary level for 20 Years in England and New Zealand. Since 2004 she has been teaching teachers in Auckland.
Lyn is passionate about having well qualified RE teachers in our Catholic schools and about Catholic Social Teaching, which is her area of further study. She lecturers for Te Kupenga Catholic Theological College in the New Zealand Certificate and Diploma in Christian Studies Religious Education papers, and works one day a week with the National Centre for Religious Studies, on project development at both a national and local level, especially in the area of human sexuality.
Lyn works four days a week as the Secondary Religious Education and Special Character Advisor for the Catholic Diocese of Auckland.
Lyn is on the parish council and is one of the Safeguarding contacts and coordinates the Sacramental programme. She was the National Moderator for Religious Studies for NZQA, NCEA levels 1-3 from 2012-2019, having first been a NZQA Moderator since 2008.
Lyn has written numerous articles and chapters in books both in Aotearoa and internationally.
Lyn is a widow, having lost her husband Bruce in 2022. She has a stepson, 4 grandchildren and 1 great grandchild in Aotearoa and many nieces and nephews in England. In her spare time, she loves to play winter and summer hockey when she can, drive her Landover, read Gothic horror novels, write poetry, listen to heavy rock, get tattoos and cuddle her 4 cats and 1 rabbit.