If you missed the event, recording is now available to watch.
Come and join us online as Dr Therese Lautua talks about the significance of Christianity for the spiritual and mental wellbeing of young Christian, multi-ethnic Pacific women. She will take us through the different images of God and how these impact mental wellbeing.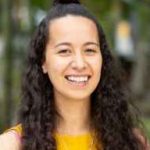 About the speaker:
Therese is a graduate in PhD Theology at the University of Auckland. Her focus is in increasing Pacific academic scholarship in the areas of Theology and mental wellbeing. She was a Unibound Manager in the Office of the Pro-Vice Chancellor at the University of Auckland and has taken a new role as Te Tomokanga Postdoctoral Research Fellow in the Faculty of Arts. She has been invited as a guest lecturer presenting topics on Pacific Theologies.