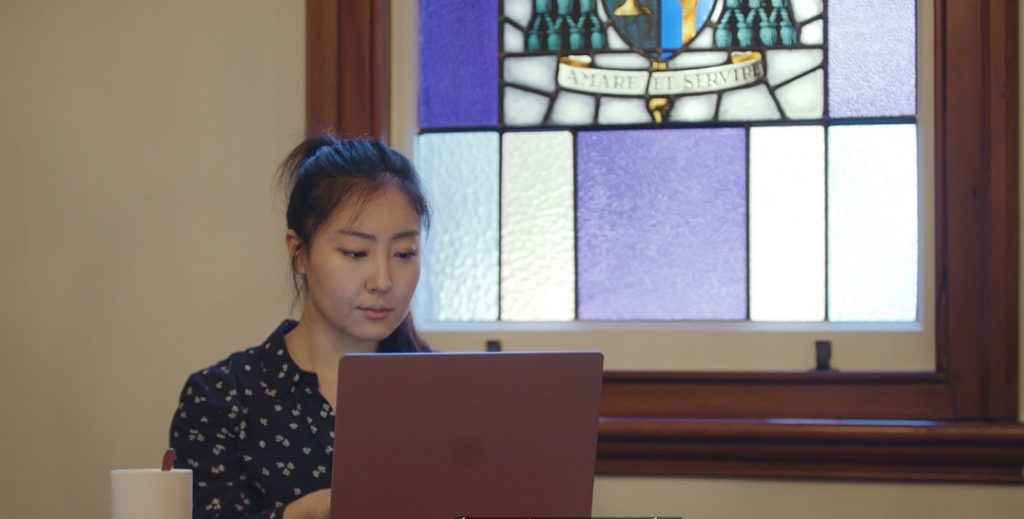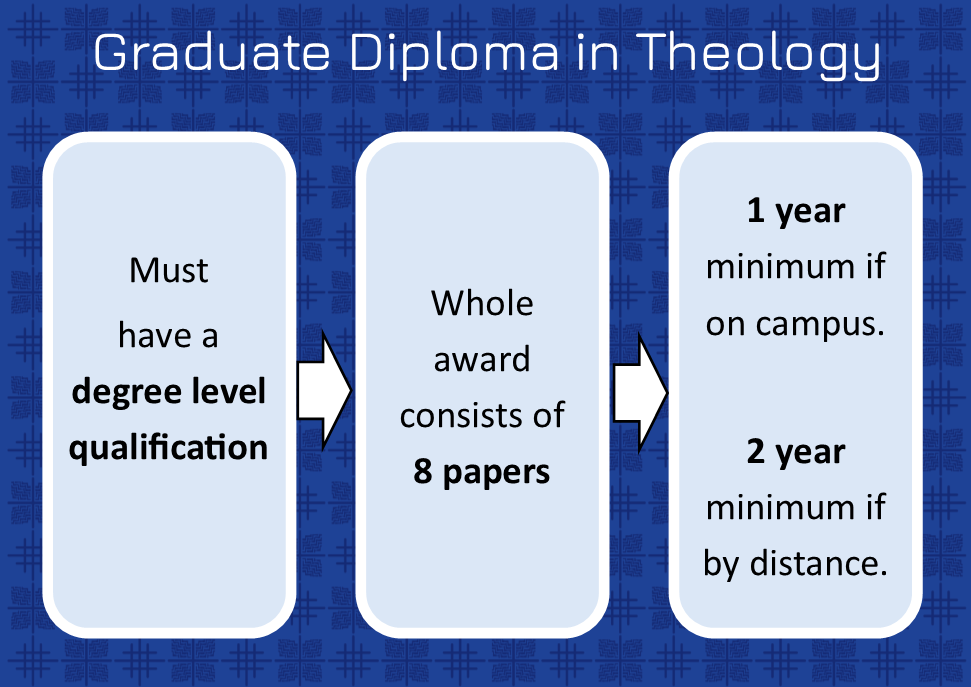 Information on the Graduate Diploma in Theology
The Graduate Diploma is available to candidates who have already attained a degree level qualification (Note – it is not a Post Graduate Diploma).
Whole award consists of 120 credits (eight fifteen-credit papers), five of them (75 credits) at stage 3.
It requires at least one year of full-time study or the equivalent part-time.
What is the recommended programme?
You have the flexibility to choose any combination of eight papers depending on your interest and their availability, with only two requirements:
Five  15-credit stage 3 papers are included (If you choose to do 7.5 credit papers, which are marked with an asterisk* from the planning guide, then you need two to make the 15 credits)
You can then do other papers of your choice from the Bachelor of Divinity or Religious Education programmes (Certificate and Diploma) as elective papers.
We encourage taking some Biblical Studies papers – although much depends on what degree you have already done and the background you have.
A little planning using the Graduate Diploma planning chart will make sure you're on the right path.  This is particularly important as you'll soon find yourself at the point of picking out advanced papers – as the diploma only allows three foundational papers.
What papers should I start with?
While stage one courses are the normal entry point to tertiary study, the Graduate Diploma recognises that previous study enables the student to begin with higher level papers – without the need for prerequisites.
What papers are coming up?
Click here to see what is being offered in the next semester.
How many papers can I take each semester?
To ensure your paper selection represents a reasonable workload there are limits to the number of papers students can take each semester.
On-campus students can study full-time (60 credits per semester) or part-time (1-3 papers per semester).
Distance students usually study up to 30 credits per semester. (Lockdown and Covid restrictions have on occasion necessitated full-time study by distance.)
Can I get credit for previous academic study (and Recognition of Prior Learning)?
The Graduate Diploma in Theology requires you to hold a bachelor's degree as the entry requirement. Studies beyond that entry requirement may qualify for credit for previous study.
On your enrolment form you will be asked if you have done previous tertiary studies. Provide the details and certified copies of transcripts and check the 'Yes' box after the question "Would you like to apply for credit for previous study?"
This information is considered by the Board of Studies, and they may grant credit for up to two papers. This process is only done for students who are enrolled in the Graduate Diploma in Theology.
What is the next step?
Now that you've decided upon the qualification you want to study towards, the next step is to select the papers that will help you complete your diploma.
A good place to start when selecting papers are the planning guides for the:
If you have already selected papers you're ready to enrol now.
Or check out the Bachelor of Divinity degree.
Download brochures
Graduate Diploma in Theology (Religious Education)
Graduate Diploma in Theology (For Helping Professionals)