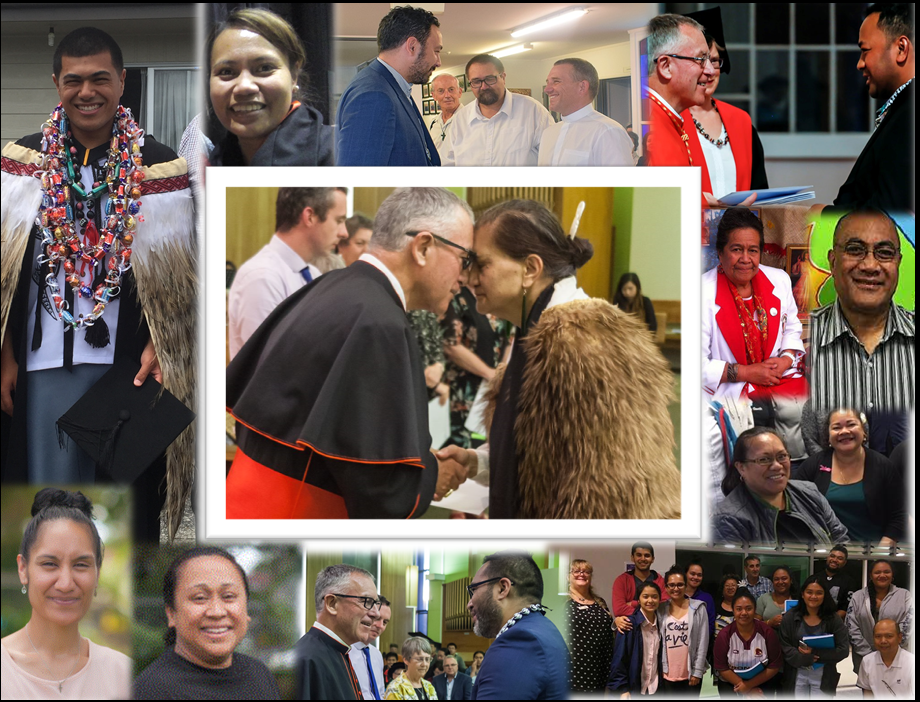 Welcome to our Māori and Pasifika Students!
Kia ora, Talofa, Mālō e lelei, Bula Vinaka, Fakaalofa atu, Kia orana, Taloha ni!
Welcome and Pasifika greetings!  Te Kupenga Catholic Theological College welcomes you!  Haere mai! Afio maia! Talitali fiefia!
The vision of the Te Kupenga Catholic Theological College is to assist in the education and formation of people in the Catholic faith in New Zealand church.  Crucial to this vision is the desire to have programmes that are accessible and engage with two significant groups within our New Zealand Catholic community, the Tangata Whenua and the Pasifika communities.  It is equally important that Te Kupenga Catholic Theological College is aware of the needs of Catholic Maori and Catholic Pasifika people so our programmes are attractive and meaningful for the people and their communities.
Maori and Pasifika people are also singled out in the Tertiary Education Strategy (Priority 3), produced by TEC, as two important groups for all tertiary providers to consider and ensure both participation in tertiary education and success in gaining qualifications.  Te Kupenga Catholic Theological College offers scholarships to both groups to ensure cost is not a barrier to participating in learning.  Current research focused on best practice that leads to success for Maori and Pasifika students at a tertiary level, argues that peer-support and mentoring are critical to assisting achievement.  Te Kupenga Catholic Theological College offers our Maori and Pasifika students, academic and cultural peer support to journey together towards achieving successfully and obtaining a qualification.
We are very proud of our Maori and Pasifika Alumni graduates, many teachers who now hold senior roles in their respective schools, some in lay ministerial roles of leadership in their parishes, chaplaincies and dioceses and others who have graduated, working in different career fields with the knowledge from a  Catholic perspective and teaching. We have a great team who are academics, teachers, lay ministers, parishioners and staff, who are part of active communities in the various tertiary, school, parish and diocese sectors offering support for all students, teachers and lecturers.
Our Maori and Pasifika team is led by:
Dr Areti Metuamate

Consultant, Te Kupenga – Catholic Leadership Institute

Melania Luka-Lui

Pasifika Engagement Liaison
Our Pasifika Advisory Council who provide support and advise for our Pasifika team and Board are:
| | | |
| --- | --- | --- |
| | Dr Cherie Chu-Fuluifaga | Senior Lecturer, Faculty of Education – Victoria University of Wellington |
| | Malia Tonga | DRS – St Mary MacKillop Primary, Mangere |
| | Toleafoa Peter Setefano | DRS – Bishop Viard College, Porirua, Wellington |
| | Falakiko Mataele | Te Kupenga Catholic Theological College  Alumni – Graduate |
| | Janice Ikiua-Pasi | Pasifika Distance Learning Advisor – Massey University |