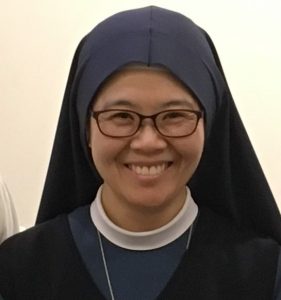 B.Ed (Gyeongin National University of Education, South Korea)
B.Th (Good Shepherd College, Auckland)
SL.L (Pontifical liturgy Institute (PIL) Sant'Anselmo, Rome)
Thesis for Licentiate: The Missale Romanum 1962 and the Bilingual Missals (1964-1968): paving the way for the Missal of Paul VI
Role at Te Kupenga: Lecturer in Liturgy
I'm from South Korea, born in Incheon, which is a city next to Seoul.
I belong to the Sister Disciples of the Divine Master and I have three different kinds of first name; my Korean name is Sujin which means a precious treasure, my baptismal name is Susanna given from my dad and my religious name is Sister Mary Susanna. After taking my first profession in 2009 I came to NZ to study Theology in 2010. I left NZ in 2014 and made my final profession in 2016 in Seoul and then went to Rome for my further study in Sacred Liturgy.
I am passionate about studying liturgy, especially studying the organic development of liturgy and the history of liturgy from the early church to today. And I am also very interested in the liturgical formation for the laity and the liturgical re-formation for the priests.
While I studied in Rome, I was the only female in my class and I was blessed to have the experience to study liturgy with many priests who came from various countries in the world. I believe that both my experience of studying with various priests and my perspective as a lay person would be very useful to teach liturgy at Te Kupenga.
As His little disciple, I always hope that I deliver the hope and joy from Him to those whom I meet everywhere.
Favourite quote/Scripture
What is essential is invisible to the eye. (The Little Prince)
Rejoice in the Lord always. (Phil 4:4a)