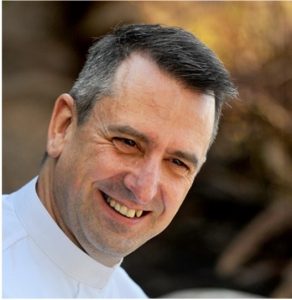 BEd (Catholic College of Education Sydney)
Grad Dip Arts (RE) (Edith Cowan University, Perth)
MEd (RE) (ACU, Sydney)
MA (Theology) (Sydney College of Divinity)
DMin (Fordham University)
Role at Te Kupenga:   Lecturer in Spirituality and Theology
Email: p.ryan@ctc.ac.nz
I was born and raised in Australia. In 1982 I entered the De La Salle Brothers and was professed in 1985.  In 1982 I received my Diploma of Teaching (1982). I continued my studies and received my B.Ed  and M.Ed in Religious Studies (1995) from ACU, and my MA in Theology (2010) from Sydney College of Divinity. In 2020 I was awarded a Doctor of Ministry degree from Fordham University. My reflections and study on the intersection of faith, spirituality and culture led to my dissertation focusing on the ways in which a founding charism can be nurtured and sustained in 21st century ministerial contexts.
I began my teaching in a primary school in Brisbane, before moving to secondary schools where I taught English and Religious Education at different Lasallian schools in Victoria, New Zealand and NSW. I have been a Director of Religious Students, English Co-ordinator, Dean of Students, Boarding Master, Deputy Principal and Principal in schools in New Zealand and Australia.
The formation of those engaged in, or associated with, Catholic educational ministries has been a dominant interest in recent years. I have served on Boards of Trustees in New Zealand and am currently serving on the Board of yourtown in Australia. I am also the Chair of Members for the De La Salle Brothers' incorporated ministries in Australia as well as being a member of the Safeguarding Committee for the ANZPPNG Province of the De La Salle Brothers.
Since finishing my doctorate, I have been the Director of Formation for the province, offering programs, workshops and retreats focusing on Lasallian spirituality and pedagogy to educators and Brothers in Australia and other parts of the world. I have also engaged with other religious congregations and groups in the Church facilitating workshops, retreats and formation days. I am looking forward to continuing my ministry with Te Kupenga.
I enjoy reading, music, traveling, writing, and walking.
Favourite Quotes:
"I can do all things through God who strengthens me" (Phil 4:13).
"In the light of faith, you see things quite differently" (St John Baptist de La Salle).