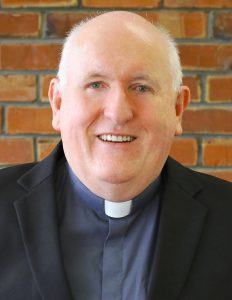 BSc (hons)  (Victoria University, Wellington)
STB  (Mt St Mary's Seminary, Hawkes Bay)
STL  (Pontifical Gregorian University, Rome)
STD  (Pontifical Gregorian University, Rome)
Role at Te Kupenga: Dean Level 7 (Grad Dip and BDiv)
Email: m.duffy@ctc.ac.nz
I am a Marist priest from Christchurch, ordained in 1985. I taught Mathematics, Computing and Religious Education at secondary level, principally at St Patrick's College, Silverstream, and Pompallier College in Whangarei. I was involved in the writing of textbooks for the 'Understanding Faith' NZ religious education syllabus and in the expert panels writing Unit Standards and Assessment materials for Religious Education. By way of Licentiate and Doctoral studies at the Gregorian University in Rome I transitioned to tertiary, starting lecturing at Good Shepherd College in its second semester in 2001. In 2005 I took on the Dean of Studies role. In the last couple of years of the College (2018-2019) I was Acting Principal.
Favourite quote/scripture:
2Cor 12:9 "My grace is enough for you, my power is perfected in weakness."
PUBLICATIONS: (See on ORCID)

Books:
Verguet's Sketchbook: A Marist Missionary Artist in 1840s Oceania, Hindmarsh, SA: ATFPress, 2014. (Co-authored with Alois Greiler)
How Language, Ritual and Sacraments Work: According to John Austin, Jürgen Habermas and Louis-Marie Chauvet, Rome, 2005.
Chapter in Book:
"The Work of Mary versus the Works of the Devil: The Ecclesiology of the Early Marist Missionaries", 143-56, in Alois Greiler ed. Catholic Beginnings in Oceania: Marist Missionary Perspectives, Hindmarsh, Australia: ATF Press, 2009.
Refereed Articles:
"The Māhia Komiti of 1841″ in Australasian Catholic Record 100/3 (2023): 279-296.
"The First Publication of the New Zealand Catholic Mission" in Australasian Catholic Record 100/2 (2023): 188-193.
"The Apostolical Tree: A Visual Aid used by Catholic Missionaries in Western Oceania" in the International Bulletin of Mission Research, Vol. 47 (3) 370-379, 2023 http://journals.sagepub.com/doi/10.1177/2396939221140007
"The Perils of Published Missionary Letters" in the International Bulletin of Mission Research January 2018 http://journals.sagepub.com/doi/10.1177/2396939317750541
"A Look at Medieval Confirmation" in Pastoral Liturgy, March-June 2017, vol 47, 2, 6-9.
"How Europe began to picture Melanesians" in South Pacific Journal of Philosophy and Culture, 2013-2015, vol. 12, 16-28.
"The Art of Theology: Mary as Bride of Christ" in Compass: A Review of Topical Theology 48:1, 2014, 39-44. (Co-authored with Mary Barker)
"The Dynamics of Tradition: Illustrated by the Magi", in The Australian Ejournal of Theology, 2010.
"Religion, Mathematics and Nothing", in The Journal of Faith and Science Exchange, 2000, 171-178
Non-Refereed Publications:
"Episcopal and Petrine Authority", in Canon Law Society of Great Britain and Ireland Newsletter 177, March 2014, 5-14.
Regular Liturgy Column in the Marist Messenger
Professional Activities:
Dean Level 7 (Grad Dip and BDiv)
Awards
2016 recipient of the John Dunmore Medal "in recognition of major contributions to knowledge and better understanding of the part played by the French people and French culture in the scientific, economic, historical and cultural development of the Pacific."