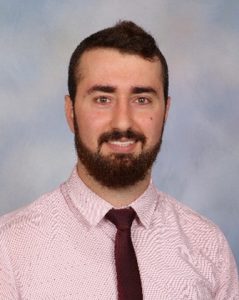 BTh (Good Shepherd College)
Grad Dip Teaching (Auckland University)
Masters in Biblical Studies (University of Divinity)
Role at Te Kupenga:   Lecturer in Biblical Studies
Fadi Yalda was born in the Babylonian Region, near Baghdad, in Mesopotamia, modern day Iraq. Due to persecution, he moved to Syria with his family for over twelve years. In 2012, he came with his family to New Zealand as refugees. Soon after that, he joined Holy Cross Seminary for three years and decided to pursue religious education in Catholic secondary schools.
He finished his Bachelor of Theology at Good Shepherd College and received his graduate diploma in teaching from Auckland University. He taught religious education at Sacred Heart College in Glen Innes in 2018 and at Sancta Maria College in Flat Bush from 2019 to 2021. Fadi then did his Master's degree in biblical studies at the University of Divinity in Melbourne for two years. His thesis topic focused on Luke 7:36-50 in discovering Jesus' relationship with sinners from socio-historical and Middle Eastern perspectives as he was invited to dine at Simon the Pharisee's house.
Fadi belongs to the Chaldean Eastern Catholic Church and is also involved in the Church life of the Roman Catholic Church in Hamilton and Auckland. He is fluent in Aramaic, his mother tongue, Arabic and English and has studied Greek and Hebrew as part of his biblical studies. Fadi is assigned to teach at Level 7 at Te Kupenga in 2024 in the biblical studies field and run Level 5 and 6 biblical studies courses for teachers at Catholic schools in the Waikato region.
Fadi enjoys sports and outdoor activities such as biking and hiking as well as philosophical, theological, biblical and linguistic arguments and discussions.