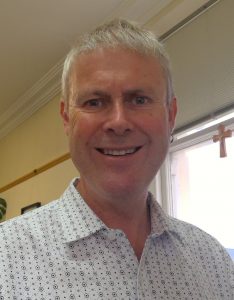 MEdLead (ACU)
Dip.Teach (Dunedin College of Education)
BEd (Otago)
BTheol (Otago)
CFLE (NCRS)
TCOPR (RNZAF Wigram)
Role at Te Kupenga: Director of the National Centre for Religious Studies (NCRS)
Email: c.macleod@ncrs.org.nz
Colin is enthusiastic about faith in Jesus and participation in the Catholic Church. He is based in Dunedin. Prior to joining Te Kupenga he had 20+ years as DRS and assistant principal, at Kavanagh College, and represented the Dunedin Diocese at the national level in Religious Education curriculum development.
Colin is a member of the Dunedin Abrahamic Interfaith Group and the Dunedin Interfaith Council and is chair of the NZ Catholic Bishops Committee for Interfaith Relations. He is married to Jan and they have one son, Callum. They are part of Whānau Aroha – Mercy Parish and are involved in leading one group and coordinating Passionist Family Groups in Dunedin, as well as being significantly involved in parish life.
Colin believes it is a privilege to participate in Religious Education, and that life-long learning is necessary for the heart as well as the head. He is currently a doctoral student through ACU.
Favorite quote/scripture: The Emmaus Story