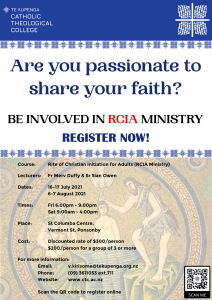 The Auckland Diocese in partnership with CTC is offering a special course for those who are and will be involved in the RCIA/RCIC ministry. This course will cover the basic periods and stages which comprise the Christian rite of initiation into the Church community. The aim is to give participants an appreciation of RCIA as a process rather than a programme by examining the key elements of each period and stage and exploring possible ways of ongoing development.
The course will be facilitated by Fr Merv Duffy and Sr Sian Owen at the St Columba Centre. Details in the poster and brochure attached. Reserve your seat. Register now.
To learn more about the course, click RCIA tri-fold brochure.
To register, click here.
For enquiries, email v.kirisome@tekupenga.org.nz