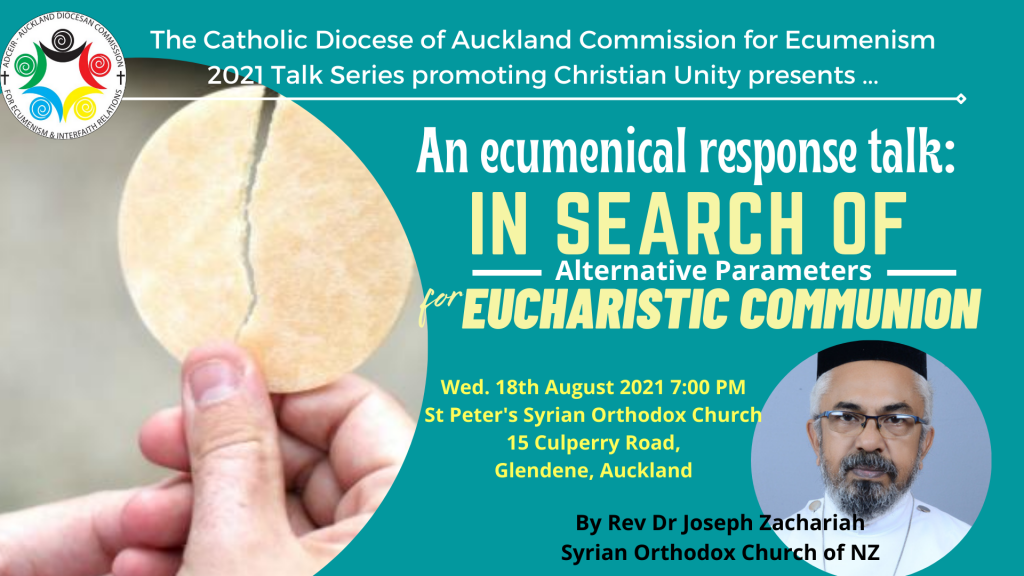 The Catholic Diocese of Auckland Commission for Ecumenism 2021 Talk Series Promoting Christian Unity presents our next speaker. In June this year, we hosted you to a public talk given by Monsignor Brendan Daly, Catholic priest and canon law expert, on the topic of what does the Catholic Church Canon Law on Intercommunion say for those who are not Catholics.
Here is the video link for that talk, worth to revisit to listen again.
https://www.youtube.com/watch?v=VQT4g57RADs
We are delighted to host you to a follow up talk on the same topic, Intercommunion. This will be added insight for understanding.
Rev Dr Joseph Zachariah, an ecumenical scholar, of St Peter's Jacobite Syrian Orthodox Church of Auckland, will share with us, "An Ecumenical Response: In Search of alternative parameters for Eucharistic Communion" | 7:00PM at St Peter's Syrian Orthodox Church |15 Culperry Road, Glendene. Light refreshments afterwards.