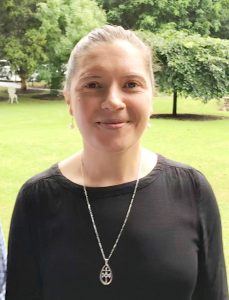 Jane Maisey rsj 
Role at Te Kupenga: Graphic Designer + Illustrator for NCRS
Email:  j.maisey@ncrs.org.nz
Born in New Zealand. Raised and educated in the Waikato. Studied design in Christchurch. Jane previously traveled internationally while working as snowboard instructor in her early 20s. Post snowboarding she has approximately 20 years experience as a professional graphic designer and illustrator. She operated her own successful design business for approximately 9 years before entering religious life.
Jane is a Sister of Saint Joseph of the Sacred Heart. She recently completed a diploma of Christian Studies and has been based in Australia (2015 – 2021). She joined NCRS part time in 2021, and is based in Auckland. She is due to also study counselling part time in 2022, while continuing to serve God (AMDG) as a freelance artist to support schools / parishes.
Her hobbies include creativity, learning, running, exploring nature with friends and chasing after her nieces and nephews.
To learn more and see some of Jane's artwork ministry visit: designjane.com
Favorite quote/scripture:
"In that way, the parts of the body will not take sides. All of them will take care of one another. If one part suffers, every part suffers with it. If one part is honoured, every part shares in its joy. You are the body of Christ. Each one of you is a part of it."  ~ 1 Cor 25 – 27
"I came that they may have life, and have it abundantly." ~ Jn 10:10
"Our vocation is to life." ~ Thomas Merton
"Let us be joyful and thank God." ~ St Mary MacKillop 1874
"Our situation today shows that beauty demands for itself at least as much courage and decision as do truth and goodness, and she will not allow herself to be separated and banned from her two sisters without taking them along with herself in an act of mysterious vengeance"
~ Hans Urs von Balthasar, "The Glory of the Lord: A Theological Aesthetics," Volume 1, "Seeing the Form"
"This world in which we live needs beauty in order not to sink into despair. It is beauty, like truth, which brings joy to the heart of man and is that precious fruit which resists the wear and tear of time, which unites generations and makes them share things in admiration."
~ Address of Pope Paul VI to Artists, 8 December 1965
Pope John Paul II Letter to Artists: https://www.vatican.va/content/john-paul-ii/en/letters/1999/documents/hf_jp-ii_let_23041999_artists.html
Articles / Reflections  
– Global Sisters Report: The gift of freedom in 'I don't know'
– The 'Yes' to first profession  > 2017: Surrender, Home, Joy
– First Year of Vowed Life > 2018: Listening, Doors, Merry-go-rounds
– Technology and Teenagers > 2018: Love or loathe? 
– A day in the life  > 2019: Sounds of Pastoral Ministry
– Tui Motu: Listening to the Depths
– The Wireless (includes video): Taking a leap of faith into religious life
– ABC Radio: 2017 Interview 
– eBook (print book also in progress): https://www.designjane.com/e-book
– More can be found on the designjane.com/blog