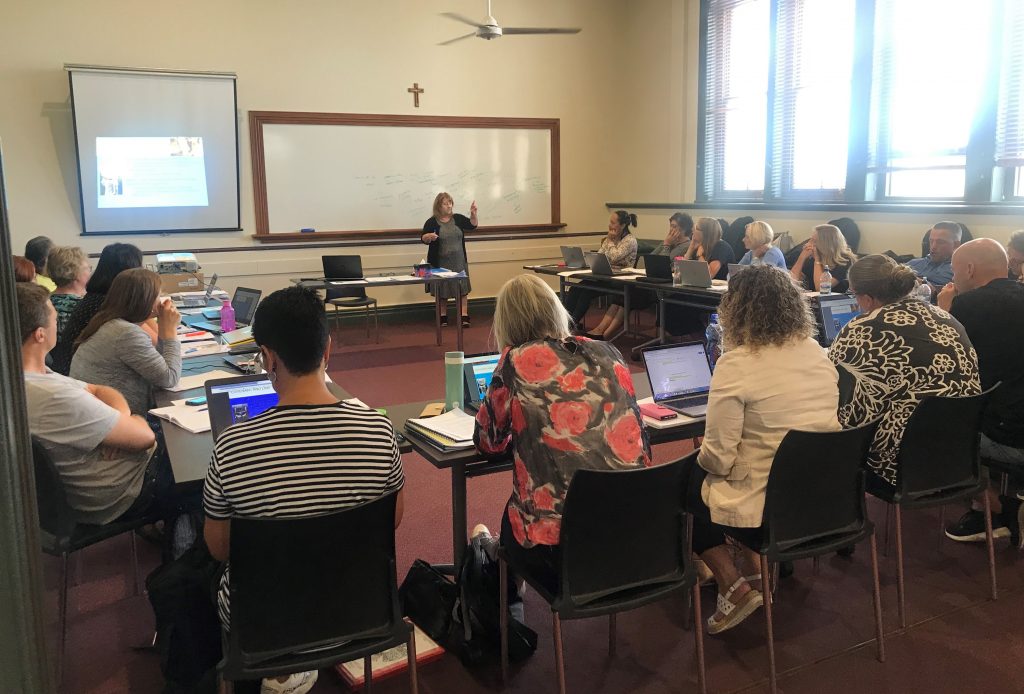 Graduate Certificate in Leadership in the Catholic Culture
This qualification is an Australian Catholic University Award. We have successfully had two cohorts in the last two years – one in Wellington and in Auckland. This award is worth 2 years of study. We are currently working on establishing new cohorts. Once we have confirmed when we will put it up on this website for all interested. However, read below on the content and requirements for this qualification.
Developing Catholic Leadership
Are you working in a Catholic School or Parish; for a Catholic diocese or organisation; or perhaps with a Religious Congregation? In your present role would you like to lead with the "mind and heart of Christ?"
The Graduate Certificate in Leadership and Catholic Culture (GCLCC) may be for you.
This qualification aims to develop leadership capabilities that enable participants to:
• Identify key elements of Catholic mission, identity, spirituality, and culture and integrate them into your school, parish, diocese or organisation
• Bring a Catholic perspective into the decision-making processes of your workplace to help build greater mission effectiveness across your organisation
• Review current practices and policies in relation to the Catholic identity, mission, and culture of your organisation
The Graduate Certificate in Leadership and Catholic Culture comprises four papers:
Unit 1 Catholic Ethos and Care of the Person
This unit introduces participants to the theological foundations of their role as leaders in a Catholic organisation. Participants will explore a Catholic understanding of the human person and human relationships.
Unit 2  Ethics in a Faith-Based Context
This unit introduces participants to practical ethical decision-making from the perspective of the Catholic moral tradition. Participants will examine and analyse case studies drawn from the specific context of their own professional experience and environment.
Unit 3  Catholic Social Thought in Practice
This unit examines the development and application of core concepts in Catholic Social Thought. Participants will explore the key concepts of Social Justice and examine the application of these concepts in relation to their leadership roles in Catholic organisation
Unit 4 Leading the Mission in Catholic Organisations
This unit will examine contemporary thinking about leadership. Participants will analyse and evaluate leadership styles appropriate for the stewardship of Catholic organisations and analyse the relationship between the culture and the mission of your organisation.