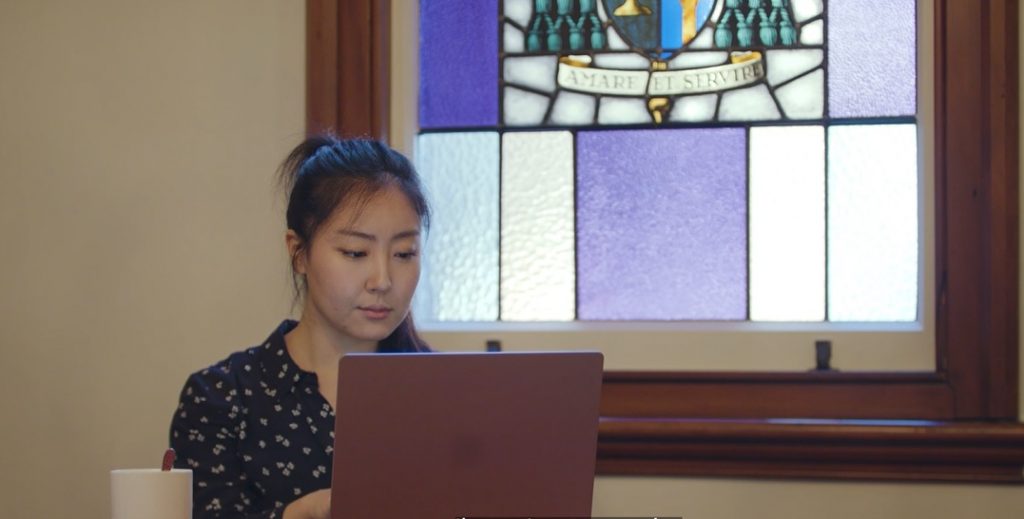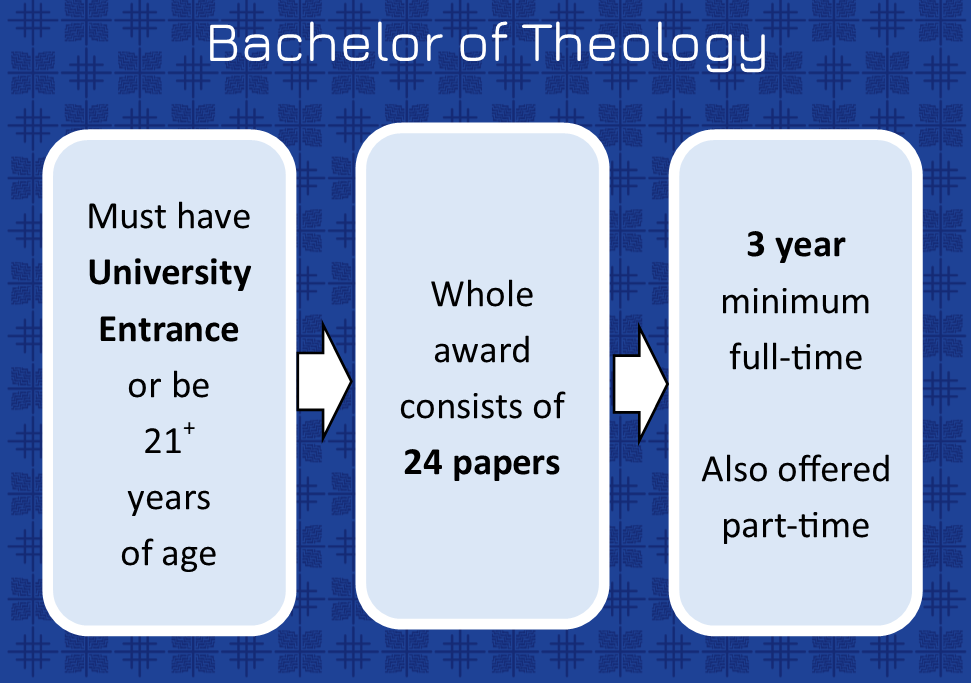 Information on the Bachelor of Theology degree programme
A full-time student does 120 credits in a year.  That is four papers or 60 credit points each semester.
4 papers x 15 credits = 60 credits in a semester.
There are two semesters in a year 60 + 60 = 120 credit points.
Part-time or distance students will take longer to complete the degree as there are limits to the number of papers students can take each semester.  This ensures a reasonable workload.
Distance students can study 1 or 2 papers per semester.
Part-time study is considered to be 1, 2 or 3 papers per semester.
What is the recommended programme?
The Bachelor of Divinity is a structured programme of study which has compulsory papers, and specific rules guiding the selection of papers to fulfil the requirements.  Further information can be found in the BDiv Planning Guide.
There are (in NZQA credits) at least 360 credits in the whole programme. An individual paper is either 15 credits or 7.5 credits. (24 x 15 = 360)
You can major in either Dogmatic Theology or Sacred Scripture (which involves passing 90 NZQA credits worth of papers in that subject areas. (6 x 15 = 90)
In the other one of that pair (Sacred Scripture or Dogmatic Theology) you need 60 credits worth of papers (4 x 15 = 90)

You must have 30 credits in Philosophy (2 x 15 = 30)
You must have 30 credits in Pastoral Studies and Practice (2 x 15 = 30)
You must have 15 credits in Moral Theology
You must have 15 credits in Church History and Patrology
What papers should I start with?
It is expected that students start off their Bachelor of Theology award with the 100-level papers, which are normally the prerequisites for the 200-level or 300-level papers.
The following compulsory first year papers are a good place to start.
What background do I need?
Applicants must have a University Entrance qualification or seek special admission if 21 years of age or over.
Can I get recognition for previous academic study (Recognition of Prior Learning)?
Yes, on your enrolment form you will be asked if you have done previous tertiary studies. Provide the details and certified copies of transcripts and check the 'Yes' box after the question "Would you like to apply for credit for previous study?"
This information is sent to the Catholic Institute of Sydney who present it to the Student Support and Administration Committee for a decision. This process can take some months and is only done for students who are enrolled in the Bachelor of Theology.
What is the next step?
Now that you've decided upon the qualification you want to study towards, the next step is to select the papers that will help you complete your Bachelor's degree.
A good place to start when selecting papers are the planning guides for the: