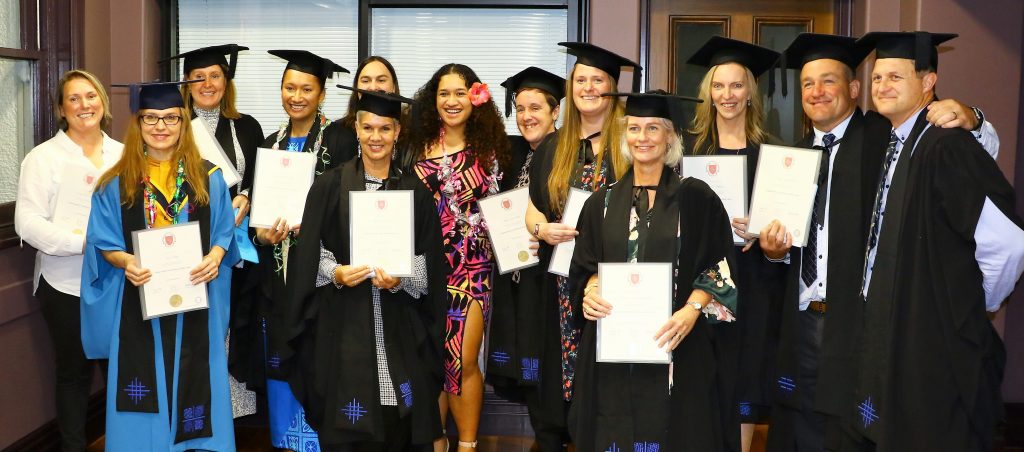 This qualification is in partnership with the Australian Catholic University. We have successfully had two cohorts in the last two years – one in Wellington and in Auckland. This award is worth 2 years of study.
Developing Catholic Leadership
Are you working in a Catholic School or Parish, for a Catholic diocese or organisation, or perhaps with a Religious Congregation? In your present role would you like to lead with the "mind and heart of Christ?"
The Graduate Certificate in Leadership and Catholic Culture (GCLCC) may be for you.
Effective leadership in Catholic organisations begins with formation. Such formation is at the heart of the Graduate Certificate in Leadership and Catholic Culture (GCLCC). This programme brings together the head, the heart, and the hands. It emphasises the spiritual underpinnings of theology. This programme develops graduates' capacity to integrate a Catholic imagination in the mission of their organisation. The course aims to build personal formation capability to:
articulate and implement the principal features of a Catholic identity, ethos and mission in your organisation
integrate a Catholic perspective into key leadership roles with an emphasis on mission
exercise authentic spiritual leadership role
interpret key Church documents relating to the leadership of Catholic identity, mission, and ethos
review current practices and policies in relation to Catholic ethos.
The Graduate Certificate in Leadership and Catholic Culture comprises four intensive units.  Each unit will be taught over five days in Auckland by ACU lecturers. Participants are encouraged to engage in group discussion and knowledge sharing with fellow students and undertake work-based projects to ensure learning is integrated into the workplace.
UNIT
DESCRIPTION
Unit 1: THCT504
Catholic Ethos and the Care of the Person

(January 2023)
This unit provides leaders and aspiring leaders in Catholic Organisations with an introduction to the theological foundations for the exercise of their role. Participants examine Catholic understandings of the human condition and explore the many dimensions of providing for the flourishing of persons in society, especially for those who experience multiple and complex forms of vulnerability.
Unit 2: PHIL506
Ethics in a Faith-Based Context

(July 2023)
This unit introduces leaders and aspiring leaders to practical ethical decision-making from the perspective of the Catholic moral tradition. Participants are enabled to develop their own response to the fundamental ethical question, "How should I live?" They have the opportunity to examine and analyse case studies drawn from their professional contexts and personal experience.
Unit 3: THCP518
Catholic Social Thought in Practice

(January 2024)
This unit explores the development and application of core concepts in Catholic Social Thought, such as the dignity of the human person, the common good, solidarity, subsidiarity, and equality. Participants are enabled to give a critical account of the biblical and theological foundations of social justice in Church tradition, their implications for personal and communal living and their role in Catholic organisations.
Unit 4: THCT505
Leading the Mission in Catholic Organisations

(July 2024)
This unit enables the integration of learning from the previous units and requires participants to reflect on leadership in Catholic contexts more broadly as well as in the specific setting of their own organisations. Participants examine contemporary theories of leadership, evaluate leadership styles appropriate for the stewardship of Catholic organisations, and analyse the relationship between the culture and mission of their own workplaces.
The programme fee for the entire programme which consists of 4 papers/units amounts to NZD$9500.  For inquiries, kindly email: dean@ctc.ac.nz or complete this form.
Financial Support
Each year NZCEO (NZ Catholic Education Office) makes a significant financial contribution to supporting the development of Catholic teachers in leadership and the teaching of Religious Education. The Board of NZCEO has generously allocated a limited fund to provide scholarships for teachers and aspiring leaders and those in leadership positions to undertake tertiary qualifications – in the main at post graduate level in support of our future Catholic leaders given their need to undertake qualifications in Catholic Leadership or special character including Theology and Religious Education. NZCEO is accepting applications for a study scholarship for teachers in Catholic schools (or teachers in state schools who want to take on leadership positions in Catholic schools). For more details kindly email Rosalie Connors (Manager of Special Character) at NZCEO: email r.

connors@nzceo.org.nz

Auckland Diocese Scholarships (kindly contact the Auckland Diocese directly)

Ruth Miller Scholarship
Jubilee Bursary

You can also contact your respective dioceses and parishes for possible financial support.